Why Your Front Door is Important
If your current front door looks old or outdated, lets in draughts, needs repairs, or simply detracts from the overall appeal of your home, it may be time to update it. Front doors are an integral part of your home and serve many purposes, including:
Welcoming guests or visitors into your house.

Increasing the curb appeal of your home.

Keeping your house cool in the summer and warm in the winter.

Providing safety and security for you and your family.

Adding value to your property before you put it on the market.
If you're thinking about a new front door, there are many great reasons to make the investment — and many options to choose from. At George Kent Home Improvements, we understand the value of your front entry door and we'll help you find the right fit for your budget and lifestyle.
Our team has been providing professional front door installations and replacements in the GTA since 1949. We carry attractive and functional front doors in a variety of materials and styles. We'll find a door that will enhance the look of your home today.
Fill out the form below for a free quote!
Front Door Installation in Toronto & the GTA
Are you looking for front door installers in Toronto and the GTA? George Kent Home Improvements have been providing door installations across the Greater Toronto Area since 1949.
From Whitby to Hamilton, our team offers professional, high-quality front door installations for your home. At the start of any new project, we will meet with you to make sure we understand your vision for the project.
We'll visit your home to take measurements and provide a detailed quote for the installation. Over the course of the work, we'll keep you up-to-date on the progress, so you always have peace of mind that the work will be completed on time and on budget.
Front Door Replacements for Your Home
If you need a front door replacement, the team at George Kent Home Improvements can help. Whether you want to increase your curb appeal or improve energy efficiency in your home, we'll be sure to get the job completed to your expectations. 
We have replaced front doors for homeowners across Toronto and the GTA since 1949. We know that replacing a front door can be disruptive and our expert team is committed to minimizing mess and noise for your family.
A replacement front door is guaranteed to change the look and feel of your home. Make a great first impression on friends, family, and neighbours — get started today.
Custom Options for Your Front Doors
If you're installing a new front door for your home, you have the ability to customize the door to suit your unique personal style. Choose from a number of options to personalize your door, including:
Front Door Colours
Select the right colour or stain to fit the design of your home. Both interior and exterior colour is important for the design of your front door, if you want to match what's already there. Each front door style is available in a variety of colour and staining options.
Front Door Glass
Choose between single glaze, double glaze, or triple glazed windows to improve the energy efficiency of your home. Check out our unique Laminated Sound Reduction Glass and Neat Glass coating if you're looking to enhance your front door.
Front Door Hardware
Finishing touches are important. Customize the hardware of your front door and select finishes for door handles, door knocks, door locks, and more. These specific features will help your door blend seamlessly with its surroundings.
Front Doors with Screens
Letting the fresh air in and keeping the bugs out is an important function of your front door. If you're looking for front doors with screens, we can help. We offer a number of front screen door options, including retractable screens, UV screens, and more.
Front Doors with Windows & Sidelights
If you're looking for more natural light in your home, front doors with windows or sidelights will work well. Front doors with sidelights will add flair to your space and help to make your door stand out. Choose from a range of patterns and designs to reflect your personal style.
Types of Front Entry Doors
Front entry doors can be found in an array of styles.
From ostentatious double front doors to modern front doors, our team will help you select the type of front doors that will suit your needs.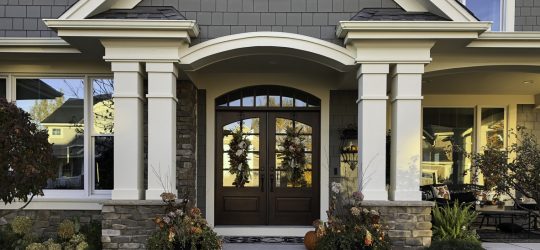 Double Front Doors
If you're looking to make your front door stand out and add a touch of elegance to your entryway, a double front door is a great choice. In addition to commanding the eye, double front doors are also ideal for accessibility and improved passage.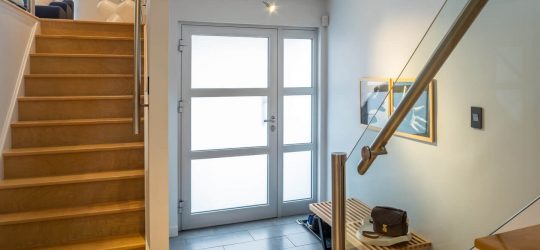 Glass Front Doors
Let the natural light into your home's entryway with a glass front door. Glass doors are available in a variety of styles, including single-pane, panelled, or featuring an upper window or transom window. Glass can be patterned to enhance your privacy — the possibilities are endless.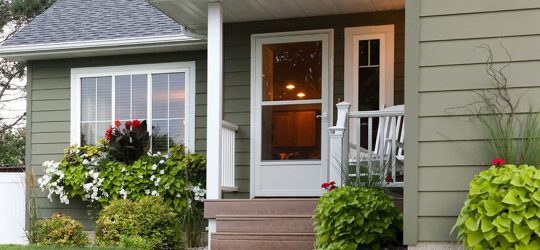 Front Screen Doors
If you like to get good ventilation in your home during the summer, then you may want to consider a front screen door. Front screen doors can be installed on the exterior of your main front entry door, so you can leave the door open without worrying about bugs getting in.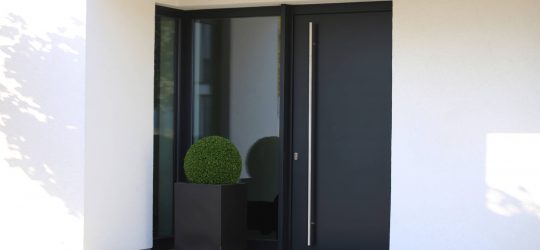 Modern Front Doors
Many people want their home to stand out in the neighbourhood. If you're looking for a more contemporary style, there are a variety of modern front door options available, including steel doors, solid wood doors, or panelled glass doors.