Deciding what shingles to purchase can be a difficult task — there are so many to choose from! Do you go with asphalt, wood, slate, or even steel? How do you know what shingle brands and installers are reputable?
To help make shingle comparisons easier for you, the team at George Kent recommends that our clients use GAF roofing shingles for a number of reasons:
Variety: GAF carries a wide range of shingles that mimic slate, wood, and even classic European designs for a fraction of the cost.
Warranty: We offer a lifetime warranty on both materials and labour that are 100% non-prorated. As a bonus, the warranty is transferable to future homeowners!
Quality: Many GAF shingles come with the highest fire rating, industry-leading adhesive, StainGuard® protection, and more.
We're certified: George Kent is a factory-certified GAF Master Elite® roofing contractor — a certification shared by only 2% of roofing contractors in the industry.
No matter what look you're going for, there's a GAF shingle that can get the job done. Below is a list of some of our best-sellers that'll make your home stand out in your neighbourhood.
Types of GAF high-quality asphalt shingles
Camelot® II Shingles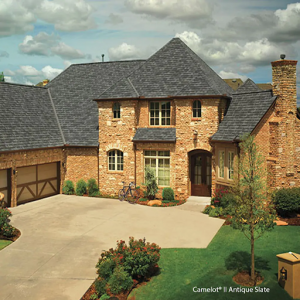 AFFORDABLE LUXURY | SOPHISTICATED DESIGN | PEAK PERFORMANCE
Want the look of slate for a fraction of the cost? Then you'll love the reliable, high-quality Camelot II® shingle that features a classic, artisan-crafted look. This Class-A-rated shingle has a wind rating of 130 mph (209 kph).
"I couldn't be more pleased regarding my new roof, a GAF Designer Camelot II® Royal Slate colour. All my neighbours have commented on how great it looks as well bringing new life and beauty to a 110-year-old house." — V.T.
Glenwood® Shingles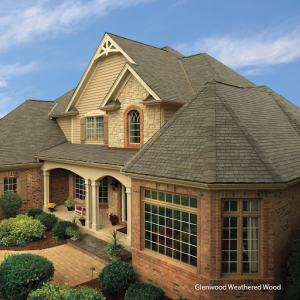 ULTRA THICK | AUTHENTIC BEAUTY | PEAK PERFORMANCE
If you're going for an authentic wood shake look, the Glenwood® is the shingle you need. This industry-leading triple-layered asphalt shingle is the most authentic wood shake look alike on the market and is far less expensive than its wood counterpart.
"Glenwood® roof shingles are a quality product relative to other products I considered. The colour variation and shape of the shingles makes the roof look wonderful." — M.A.
Slateline™ Shingles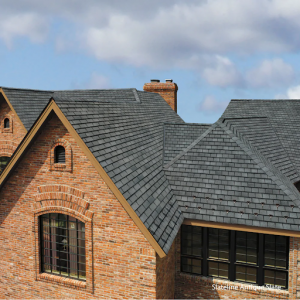 AFFORDABLE LUXURY | LOOK OF SLATE | PEAK PERFORMANCE
With bold shadow lines and tapered cut-outs, the Slateline™ provides the look of slate shingles for a fraction of the cost. The Slateline™ is also Good Housekeeping rated and features stain protection from StainGuard®.
"We chose the Slateline™ shingles because we wanted the look of a slate roof without the cost. We were very happy with the result." — J.K.
Timberline HD™
GREAT VALUE | PEAK PERFORMANCE | DIMENSIONAL LOOK
If you want a shingle that you can rely on, this is it. The Timberline HD™ is relied upon by North American homeowners more than any other brand. It's the perfect balance between beauty, performance, and reliability with an unbeatable value.
"The shingles have given our home a great refreshed look. Love them." — B.S.
Woodland® Shingles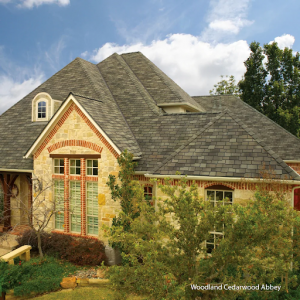 SOPHISTICATED DESIGN | PEAK PERFORMANCE | AFFORDABLE LUXURY
The Woodland® shingle gives your home the unbeatable aesthetic of a hand-cut European shingle with 21st century style; a perfect blend of old and new world. The Woodland® shingle comes with a custom colour palette, designed exclusively for GAF, by colour industry expert Patricia Verlodt. Your shingles will be the talk of the town when you choose the Woodland® style.
"The shingles look great. Very happy with them. My neighbours still tell me how much they like them. Very pleased with how it turned out and how different my house looks now." — B.G.
When to replace your shingles
There are a number of telltale signs that your home needs a new roof. From stains or streaks in your attic to cracks, damage, buckling or rot, sometimes the need for a new roof can be obvious, other times it'll require closer inspection.
As a rule of thumb, find out what the warranty on your current shingles is. Many shingles come with a lifespan of a certain number of years.
We encourage you to download our home improvement guide: When To Repair or Replace Your Home's Components. The guide will help you understand how to check your windows, doors, siding, and roofing for signs that they need to be repaired or replaced.
If you have any questions, don't hesitate to contact us — we're here to help.